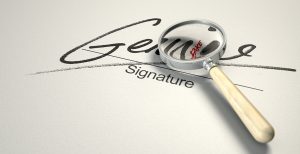 Even in the digital age, customers still use their signatures as a primary form of authentication for a range of transactions. Their signatures authorize checks, new account paperwork, loan documents, and more, and to minimize the risk of fraud, your financial institution needs the right solutions to detect forgeries quickly and accurately.
Types of Signature Forgeries
There are a few different types of forgeries including the following:
Blind Forgeries
These forged signatures have little to no resemblance to the customer's actual signature because the forger does not have access to the signature. For example, this comes into play if a thief is opening a new account using a stolen Social Security Number they bought from the dark web or if they're writing bad checks from a stolen checkbook.
Trace-Over Forgery
Also known as an unskilled forgery, these forgeries are created by tracing over the actual signature. They tend to look very similar to the actual signature and the differences are often undetectable to the human eye alone. However, they focus on accuracy over fluency.
Skilled forgery
The hardest type of forgeries to detect, these signatures are produced by criminals who have spent a lot of time practicing and have the ability to replicate the actual signatures in a way that looks both accurate and relatively fluent to the naked eye.
The Risks of Manual Signature Verification
Manual signature verification can easily detect the differences between blind forgeries and actual signatures, but this method struggles to detect traced or skilled forgeries. It also has a lot of subjectivity, and its efficacy tends to be inconsistent based on the expertise of the banking professional as well as their mood, fatigue levels, and distractions. As a result, manual signature review can lead to an uncomfortable number of false rejections and forgery acceptances.
Flagging transactions as fraudulent when they are not impairs customer satisfaction and injects unnecessary delays into customer transactions. On the flip side, if your team lets a skilled forgery slip through, you're likely to suffer both financial and reputational losses.
Static and Dynamic Signature Features
To be effective, signature verification methods need to examine static and dynamic features to detect minute differences between presented signatures and actual signatures. These features include the following as well as others:
Shaky handwriting
Pen lifts
Signs of retouching
Letter proportions
Signature shape and dimensions
Letter slants
Speed, acceleration, and smoothness of curves
Pen pressure and pressure changes
As you can imagine, many of these features, particularly the dynamic features such as acceleration and smoothness of curves are impossible for the naked eye to detect during manual verification, while the static features such as shaky handwriting or letter slants are easier to detect.
So, what solutions can help your financial institution move past manual signature verification and toward a verification process that looks at both dynamic and static features? Ultimately, effective signature verification solutions fall into two main categories: offline and online.
Offline Signature Verification Solutions
Offline signature verification tools rely on comparing static, two-dimensional images in situations where it's impossible to monitor real-time signature activity.
These solutions imitate the methods used by humans but they automate the process to help you save time and resources. Offline signature verification solutions primarily look at static features such as the texture of the signature, shape and size aspect ratios, stroke positions, and handwriting differences.
They analyze signatures by comparing suspicious signatures with real signatures, but unlike most humans, these solutions don't look for an exact match. Instead, they use machine-learning to assess if the signature falls into the expected range of variation of the customer's actual signature.
Remember, real signatures are not identical. They can vary a lot depending on the signer's mood, emotional state, age, conditions while signing, and multiple other factors, and effective signature verification tools take all of this into account.
Online Signature Verification Tools
Online signature verification tools go a step further and analyze dynamic signature features such as speed and pressure. The key feature of an authentic signature is fluency. Even a well-practiced, skilled forgery takes longer to produce than an authentic signature.
While someone can sign their own name without hesitation,  forgery involves deliberately controlled muscles and a slower signing process, and online tools help you detect these dynamic differences.
The Right Signature Verification Solutions for Your Financial Institution
Most financial institutions need both offline and online signature verification solutions so they can effectively assess all the signatures that they review.
At SQN Banking Systems, we offer a variety of signature verification solutions designed to help you detect forgeries more effectively, while also reducing the burden of manual verification on your team and the risk of hurting customer relationships with false positives. To learn more, contact us today.